Lennart Käfer – Lehrer für Gitarre & Bass, Geboren am 06.November 1990
Absolvent der Popakademie Mannheim (Bachelor of Arts, Popmusikdesign) im Hauptfach E-Bass und Nebenfach Gitarre. (2015)
Lehrer für Gitarre & Bass im Gitarrenstudio Kübler (2008 – 2011).
Lehrer & Bandcoach im "School of Rock" Schulprojekt Raum Mannheim.
Seit 2008 – Gitarrist, Sänger & Produzent der Band "Funk Kartell" aus Rutesheim.
Teilnehmer im internationalen Finale der "BOSS Loopstation World Championship".
Seit 15 Jahren auf den Bühnen Deutschlands unterwegs.
Bislang arbeitete ich mit vielen Künstlern zusammen, darunter:
MaximNoise, KOSHO (Söhne Mannheims), Sebastian Niklaus, Schlafkonzerte, KKO (Kurpfälzisches Kammerorchester), Dave Schaefer.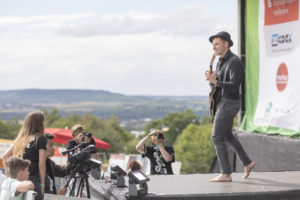 Bass-Unterricht bei:
Frank Itt (Howard Carpendale, Errorhead, Anika Nilles)
Oliver Poschmann (We Will Rock You)
Dominik Krämer (TV Total, The Voice of Germany, Sing meinen Song)
Gitarren-Unterricht bei:
Michael Koschorreck (Söhne Mannheims, Xavier Naidoo), Lu Thome (Primavera Project)
TV-Auftritte:
ZDF Fernsehgarten mit "TinkaBelle".
SWR Kaffee oder Tee mit "Funk Kartell" & "Pleasant Pages"
Werbespot "Ferrero Küsschen" mit Musik von "Pleasant Pages"